Home

/

SIERRAFORM GT MOMENTUM 22-2.2-9.1 20KG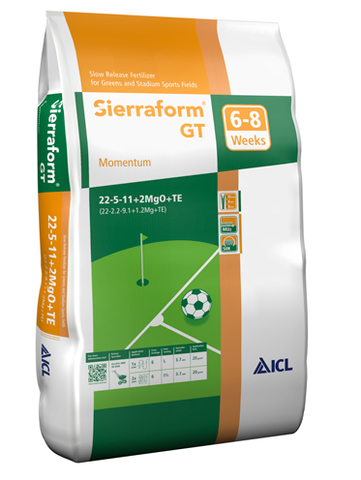 SIERRAFORM GT MOMENTUM 22-2.2-9.1 20KG
In Stock
General Features:
BENEFITS
Sierraform GT Momentum is made up of small uniform granules, allowing for even spreading and fast application. It comes with ICLs patented MU 2 and Silk coatimg technologies. It is ideal to use during active growth periods in spring and summer.

GENERAL FEATURES
Sierraform GT contains both slow release nitrogen and slow release potassium, along with conventional release N, Magnesium enhances turf colour while the trace element package ensures maximum plant health.
The slow re-lease nutrition from Sierraform GT range promotes strong healthy turf grass growth and is particularly suited for use on fine turf
areas.
Specifications:
GUARANTEED ANALYSIS
TOTAL NITROGEN (N)....................................... 22%
3.0% ammoniacal nitrogen
7.6% urea nitrogen
11.5% ureaformaldehyde
I 4.5% soluble at 20°C
II 4.0% insoluble at 20°C / soluble at 100°
III 3.0% insoluble at 100°C
PHOSPHORUS (P)............................................. 2.2%
2.2% water soluble
POTASSIUM (K)................................................ 9.1%
water soluble (chloride free)
MAGNESIUM (Mg)............................................. 1.2%
Copper total (Cu) water soluble 0.02%
Iron total (Fe) water soluble 0.5%
Manganese total (Mn) water soluble 0.1%
Suitable For:
> Golf Greens
> Low Cut Turf
> Tees
> Cricket Wickets
> Bowling Greens
> Maintenance
Application:
APPLICATION RATE
Ideally, the application rate should be determined by a soil test result. Generally a rate of 200–300kg per hectare will deliver
44kg-66kg/ha actual N and 18.2kg-27.3 kg/ha of potassium. A high activity 53% slow release nitrogen product
Product Sizes:
Pack Size 20kg

Granule Size 0.7-1.4
Downloads