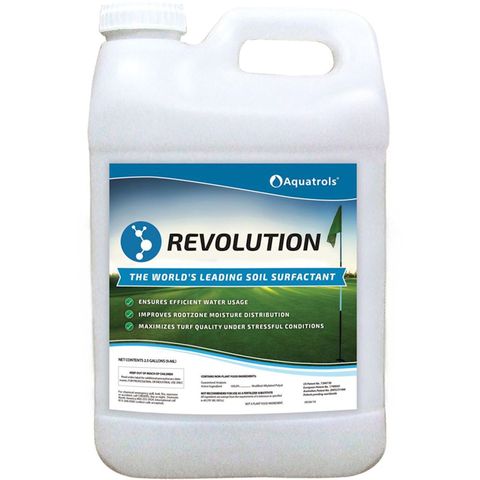 REVOLUTION 10L
In Stock
General Features:
It's not just a product, it's a program. Revolution is a unique stress management tool which is a new class of surfactant chemistry. Revolution is used mostly on greens, tees, sand modified soils, areas of high visibility and demand like Sports Stadiums.

Revolution has been shown to be compatible with many soil targeted products. It can help place soil targeted chemicals and fertilizers more uniformly in the soil and can maximize the effectiveness of these materials.

Most superintendents who have made Revolution part of their turf grass management program have found they can reduce irrigation frequency and increase run times. Because Revolution allows excess moisture to drain more quickly and completely through the root zone, superintendents are able to produce drier, firmer putting surfaces while reducing moisture stress on their turf grass. This is one of the most unique and beneficial features about Revolution compared to other surfactant chemistries.

This User's Guide is a compilation of what has been learned so you can experience all of the water management and plant health benefits of a Revolution program.
See downloads for Revolution User's Guide.
Specifications:
Duration: 30 Days
Suitable For:
Duration: 30 Days
Application frequency: Monthly
Application:
Application frequency: Monthly
Product Sizes:
Pack size: 10L, 208L
Downloads