Home

/

SPORTS FERT NO3 14-3-7 +TE 20KG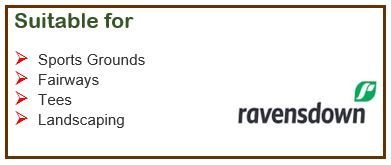 SPORTS FERT NO3 14-3-7 +TE 20KG
In Stock
General Features:
BENEFITS:
Classic 3-1-2 N-P-K
Highly economical and cost effective for sports grounds and fairways Increased plant quality. Ensures the supply of plant available sulphur.
A granulated free flowing balanced fertiliser. For fairways, tees, sports grounds and lawns.

GENERAL FEATURES
14% Nitrogen for growth and leaf development.
3% Phosphate for root development and growth.
7% Potassium for wear, drought and disease resistance.
All the trace elements your grass needs for healthy sustained growth.
Specifications:
RELEASE TYPE: Standard

GUARANTEED ANALYSIS
Nitrogen (N)................................. 14.0%
100.0% Ammonium Sulphate
Available Phosphate (P)............... 3.0%
Soluble Potassium (K).................. 7.0%
Sulphur (S).................................. 14.0%
Borate (B).................................... 0.25%
Zinc Sulphate (Zn)........................0.2%
Copper Sulphate (Cu) ..................0.2%
Sodium Molybdate (Na2Mo02)..... 0.024%
Iron Sulphate (Fe)........................ 1.4%
Calcium Magnesite (MgO)............ 2.0%
Manganese (Mn) .........................0.2%
Suitable For:
> Sports Grounds
> Fairway
> Tees
> Landscaping
Product Sizes:
Pack size: 20 kg,
Tonne lots (50 x 20kg)
Bulk Bags 500kg or 1000kg
Downloads