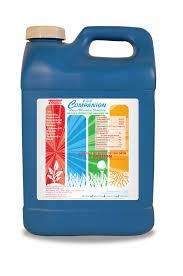 COMPANION 10L
In Stock
General Features:
Companion: Microbial Inoculate
Companion is a concentrated source of beneficial soil micro-organism spores : Bacillus subtillus GBO3.

Companion quickly colonizes soils with soil Bacillus which provides the proper ecological balance, to help suppress pathogen attack.

Companion can be tank mixed and applied with both systemic and contact fungicides, as well as part of a regular turf maintenance program to keep a healthy ecosystem of soil micro-organisms.

Companion can be used in conjunction with other soil remediation products to accelerate improvement of soil from contamination and over usage of chemicals.

For Trees and Shrubs can mix Companion with Essential or other organic solutions to provide additional food source for micro-organisms.

Use to aid the transplanting of Trees and Shrubs.

Use as a soil drench for soil-less mixes, bark, peat, and other soils that have been sterilized or fumigated.
Specifications:
SPECFICATIONS:
Release Type: Standard
N:........... 2
P:........... 0
K: ..........1.6
Ca:....... 1
Mg.......: 0.5
Fe........: 0.06
Suitable For:
> Golf Greens
> Renovation
> Tees
> Landscaping
> Maintenance
Application:
Turf Applications
Normal soil type 12.7 .L / Hecatare Spray at 550-750 L / Hectare
Sandy soil type 15.8.L / Hecatare Spray at 550-750 L / Hectare

Horticulture Application Rates for Trees & Shrubs
Transplants 120 ml / m3 of soil
Containerised Dilute 60ml in 20L water. Add 480ml of mix per 4L container

Apply early in spring after ground temperature has reached 7C and until late Autumn prior to light frost

Please Refer to label for Tank Mixing instructions.
Product Sizes:
Pack size: 10L
Downloads