Home

/

FERT TABLETS AGRIFORM 10KG 20-4.3-4.1+TE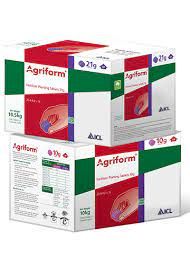 FERT TABLETS AGRIFORM 10KG 20-4.3-4.1+TE
In Stock
General Features:
Agriform delivers enough nutrition to feed the plant for up to 12 months (in warmer climates).
This can drastically reduce labour costs and materials generally needed for reapplication.
The simple counting and placing of the tablets will ensure both uniform and sufficient fertilization.
The placement of the tablets near the root zone ensures no nutrition is given to surface-rooted weeds or grass.
Also, no surface residue is washed away, and the leaching-resistant properties of the tablets protect underground water from pollution.
Agriform is best used in high volume planting like re-vegetation and is ideal to use in heavier soils.
Specifications:
Release Type: Slow N
N: 20
P: 4
K: 4.2
Ca: 2.6
Fe: 0.5
S: 16
plus TE
Suitable For:
•Landscaping
Application:
Duration: 12 months
Product Sizes:
Pack size: 10kg (1000 tablets)
Tablet size: 10gm
Downloads