Home

/

FERT TABLETS OSMOCOTE EXACT 14-3.5-8.3 +TE 7.5KG DG9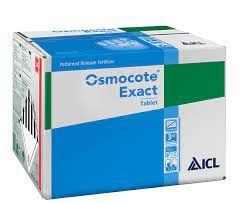 FERT TABLETS OSMOCOTE EXACT 14-3.5-8.3 +TE 7.5KG DG9
In Stock
General Features:
Osmocote Exact Tablets offer you the chance to give very accurate doses of nutrients in a simple fashion.
Due to its cone-like shape, the tablet can be pushed down easily into growing medium. T
he tablets release over12-14 months.
As with Osmocote Exact, the longevity can be recognized by the coloured granules in the tablets

High nutrient efficiency as a result of accurate dosage. After application the water soluble adhesive dissolves and the tablets fall apart.
Specifications:
Release Type: Slow N
N: ..............14
P:.............. 3.5
K: ..............8.3
plus TE
Suitable For:
•Landscaping
Application:
Duration: 12-14 months
Product Sizes:
Pack size: 7.5kg (1500 tablets)

Tablet size: 5 gm
Downloads