Home

/

MESA COUNTRY CLUB 100% 19-0-16 22.68KG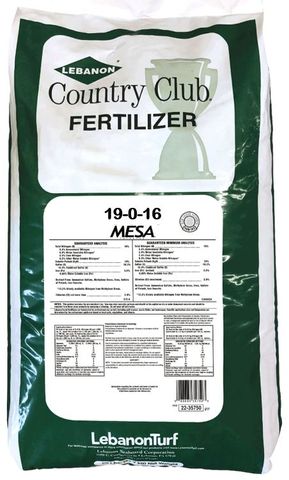 MESA COUNTRY CLUB 100% 19-0-16 22.68KG
In Stock
General Features:
Country Club MESA 100% 19-0-16 + 3% fe SRN

A unique mid sized blend with Mesa Nitrogen a patented technology that combines sulphate of ammonia with methylene urea in a single granule. Brilliant colour with out excessive growth. Slow release properties are not lost if granule crushed, broken or cracked. More of the nitrogen pplied is plant available. Practical leaching tests suggest ammonium sulphate in MESA lasts twice as long as ammonium sulphate by itself. 70% of the nitrogen is slow release from methylene urea.

Country Club Mesa 19-0-16 is recommended in any turf situation where benefits of a nitrogen package in a 1:1 combination with sulphate of potash is desired. 100% of the nitrogen is derived from MESA, Lebanon Turf's patented technology. MESA provides the deep green initial response of sulphate of ammonia and the long term response of methylene urea in a homogeneous granule.
Specifications:
Release Type: Slow N
N:............ 19
P:.............. 0
K:........... 16
S:............. 10.2
Fe:........... 3.0
Suitable For:
> Golf Greens
> Tees
> Low Cut Turf
> Sports Fields
> Landscaping
> Bowling Greens
> Maintenance
Application:
Duration: 8-10 weeks
Product Sizes:
Pack size: 22.68kg

Granule Size: SGN 145
Downloads