Home

/

PROSCAPE EXPO 20-0-20 22.68KG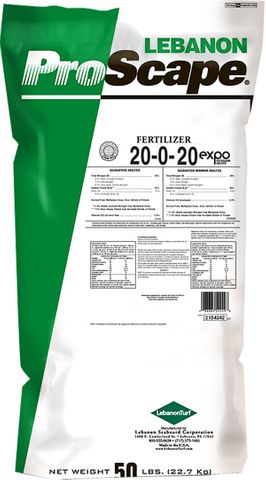 PROSCAPE EXPO 20-0-20 22.68KG
In Stock
General Features:
Proscape Expo 20-0-20 85% SRN: MU + 100% SRK

A cost-effective, homogeneous source of controlled-release potassium and nitrogen which extends the benefits of these essential nutrients. The controlled-release sulphate of potash lasts up to twice as long as regular sulphate of potash.
This means that potash can last as long as the controlled-release nitrogen portion of a fertiliser.
Expo 20-0-20 also delivers Meth-Ex 40 methylene urea nitrogen, the highest efficiency methylene urea complex available anywhere.
Over 80% of the nitrogen consists either of water soluble organic polymers or efficient, high activity index water insoluble nitrogen.
Specifications:
Proscape Expo 20-0-20 85% SRN: MU + 100% SRK
Suitable For:
> Golf Greens
> Tees
> Low Cut Turf
> Landscaping
> Sports Fields
> Cricket Wickets
> Bowling Greens
> Maintenance
Application:
Release Type: Slow N & K
N.................. 20
P.....................0
K...................20
S:................. .8.5

Duration: 8-12 weeks

Granule size: SGN 145
Product Sizes:
Pack size: 22.68kg
Downloads