Home

/

CC LEBANON STD 16-1.7-6.7 22.68KG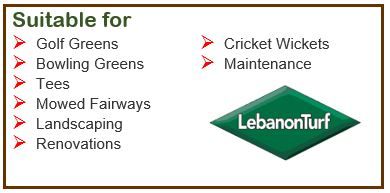 CC LEBANON STD 16-1.7-6.7 22.68KG
In Stock
General Features:
A premium, homogeneous fertiliser formulated for use on greens, tees, and closely mowed fairways at low to moderate rates.
Proscape Greens 16-1.7-6.7 plus 1% Fe is formulated as an economical 3:2:1 fertiliser to be used on large turf areas where quick green-up is desired or in situations where ammonium nitrogen is required to produce an acid soil reaction.
Consistent granule sizing facilitates fast and effective spreading.
Sulphate sulphur enhances response and improves overall turf vigour.
Specifications:
Release Type: Standard
N.............. 16.0
P.................1.7
K................6.7
S................5.1

Pack size: 22.68kg

Granule size: SGN145
Suitable For:
•Golf Greens
•Bowling Greens
•Tees
•Mowed Fairways
•Cricket Wickets
•Maintenance
•Renovations
•Landscaping
Application:
Outstanding choice for golf greens, bowling greens, tees and mowed Fairways all landscaping situations.
Product Sizes:
22.68KG Bag
Downloads