Home

/

Lawns

/

STARTER PLUS BLOOMTASTIC 8-14-4 10L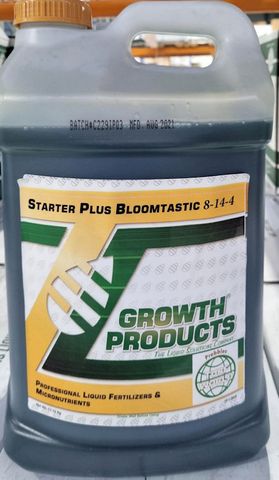 STARTER PLUS BLOOMTASTIC 8-14-4 10L
In Stock
General Features:
BENEFITS
High analysis, high Phosphorous foliar.
Ideal for hydroseeding.
Perfect for all new seeding situations.
True clear solution, requires no special mixing or agitation.
Highly soluble for quick correction of P deficiencies.
Non-clogging and abrasive to spray equipment.
Great product for winter recovery.
Improves root growth.

FEATURES
Starter Plus Bloomtastic 8-14-4 is a high phosphorous solution ideal for newly seeded areas including hydroseeding. Starter Plus Bloomtastic 8-14-4 provides a continuous source of quickly available nitrogen to promote top growth with limited thatch formation. Both the P and K are readily available to promote good root growth.
Specifications:
Nitrogen (N) 8%
(8% Ammoniacal)
Phosphate (P) 14%
Potassium (K) 4%
Boron (B) 0.02%
Copper (Cu) 0.05%
Chelated Copper (Cu) 0.05%
Iron (Fe) 0.1%
(0.1% Chelated Iron)
Manganese (Mn) 0.05%
(0.05% Chelated Manganese)
Molybdenum (Mo) 0.0005%
Zinc (Zn) 0.05%
(0.05% Chelated Zinc)

Derived from. Potassium Hydroxide, Ammonium Polyphosphate, Phosphoric acid,
Iron EDTA chelate, Manganese EDTA chelate, Zinc EDTA chelate, Sodium
molybdate,Sodium Borate, Copper EDTA.
Suitable For:
Safe to use on all turf situations to address P requirements. Ideal for seed starting, hydroseeding and foliar applications. It is compatible with fungicides,
insecticides and herbicides and can be mixed and sprayed in one application.
Application:
MIXING
Starter Plus Bloomtastic 8-14-4 must be diluted with water prior to mixing with other nutrients or technical
materials. After that add other products to mix in this order: Be sure to do a jar test.
1. Wettable powders 2. Flowables
3. Water solubles 4. Surfactants
5. Emulsifiable concentrates

APPLICATION
Turfsituations: 10-20L per ha or at desired P rates.
Product Sizes:
10L Pail

Weight per Litre: 1.43kg
Downloads